Regular readers of the blog will remember Adamu's saliva-speckled posts on Krispy Kreme donuts. Well, I've just found out via Michael Turton's blog that Dunkin Donuts recently announced plans to expand into Taiwan, and then eventually through them into China. As far as I know, this will make Taiwan the second country after the Philippines to have both a Dunkin Donuts and a Mister Donut franchise, a condition that if you know the history of both companies suggests an incongruity of much the same character as the fact that light is both a wave and a particle.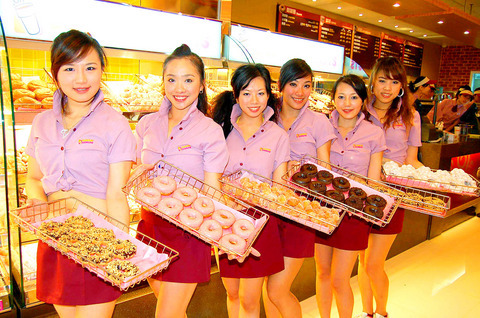 Before coming to Japan I had never heard of Mr Donut, and was a bit incredulous when I was first told that it was originally an American company. Noticing that their advertising makes notes of the fact that it was started in San Francisco Chinatown (some locations have Chinese-y menu items like dumplings or noodles to play off of this), I assumed that it was just one of those American chains which, despite being fairly big regionally, had just never made it from one coast to the other. Except for wishing, whenever I passed a Mr Donut in Japan, that it was a Dunkin' Donuts instead, I never thought of them again until I moved to Taiwan to study Chinese in 2004.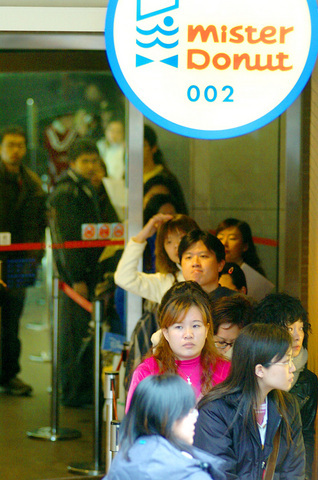 I arrived in Taipei in May, apparently no more than a couple of months after the introduction of Mr Donut to Taiwan. Unlike in Japan, where it was nothing but a common vendor of sweet and sometimes sticky pastries, Mr Donuts in Taiwan was a phenomenon, with desperate young consumers waiting on lines so snakishly long that they were later to be my frame of reference when my rarely present nominal flatmate Dmitri described to me the experience of waiting in line to get into that first Pushkin Square McDonalds to open in Russia after perestroika.
Having been impressed by the utter ordinariness of Mr Donuts product in Japan, I was rather shocked by the amount of enthusiasm there was for the product here, until I noticed the promotion campaign. To see what the centerpiece of that campaign is, just visit out the Mr Donut Taiwan web site and check out the title:
Mister Donut Japan No.1 Donut Shop
While in Japan the brand image of Mr Donut is based around its American-ness, with a minor strain of Chinese-ness from the San Francisco heritage, Mister Donut Taiwan is being promoted entirely on the basis of its popularity in Japan. While Taiwan certainly has nothing against American products or fast food, the Japanese link has a much stronger association with the high class. For one illustrative example of how the Japanese image is helpful for marketing in Taiwan, notice how dry cleaning stores are always labeled as "Japanese style dry cleaning," despite (to my knowledge at least) there being any particular historic link between Japan and dry cleaning. We can also see an interesting choice in the removal of any marketing or products associated with Chinatown. After all, why would the idea of third-rate Japanified Americanized Dim-sum be remotely appealing in a city where you can find the same type of thing at lower prices and higher quality in almost any direction you turn?
If you look at the order and location in which stores were opened in Taipei, you can see a clear attempt by the planners of Mr Donut Taiwan to instill establish Mr Donut as a high class brand.
(1) Tianmu – a high class neighborhood with many expensive stores.
(2) Breeze Center – A department store. I don't know if it's Japanese owned, but it has a strongly Japanese style to it, and even contains the Taipei branch of Japanese bookstore Kinokuniya.
(3) New York, New York – High end shopping center located at the base of Taipei 101, currently the tallest skyscraper in the world.
(4) Taipei Station – Not actual in the station, but in the underground shopping center, right by the door connecting it with the neighboring Shin-Kong Mitsukoshi Department Store.
After this they began branching out into somewhat less stylish areas, and now have a total of 17 stores including one in Xinzhu and three in Gaoxiong, but by associating the early stores both with high class shopping districts and Japan, the company did an excellent job of beginning to establish their brand as something more more at the level of Starbucks than McDonalds.
By now you may be thinking, but didn't this start with Dunkin' Donuts, not Mr Donuts? Well, let's look briefly of the history of these two brands.
Mister Donut was founded by Harry Winokur in 1956 and had locations across most of North America.

Mister Donut was the largest competitor to Dunkin' Donuts, which was founded by Harry Winokur's brother-in-law William Rosenberg in 1950, prior to being acquired by Dunkin' Donuts' parent company, Allied-Lyons, in February 1990.

After the acquisition of Mister Donut by Allied-Lyons, all Mister Donut locations within North America were offered the chance to change their name to Dunkin' Donuts. Now only a scattered few locations still hold the name Mister Donut.

In 1983, Duskin Co. Ltd of Japan acquired the rights to franchise Mister Donut throughout Japan and Asia. Mister Donut is the largest donut chain operating in Japan.
[From Wikipedia]
For some reason there remain sixteen Mr Dont locations in the United States that have not transitioned to the Dunkin' Donuts brand, but for all intents and purposes they are now a Japanese company, under the aegis of Duskin Co. Ltd., and the Mr Donut brand has spread to the Philippines, and now Taiwan, as an offshoot of the Japanese company. There was a Dunkin Donuts operation in Japan for a time, run as a joint venture with D&C, the holding company of the internationally famous Yoshinoya brand, but currently the only East Asian country with Dunkin Donuts is South Korea, although it is quite common in Thailand, and in the Philippines one can even find Dunkin Donuts right next door to Mr Donut. Will we ever see such a site in Taiwan? Will Dunkin' Donuts take hold? Will we ever see Krispy Kreme opening in a vacated Mr Donuts shop next to Taipei 101?
For a good taste of Taiwan's Mr Donut hysteria, circa February 2005, check out this Taipei Times article. For a taste of how they may fare in the future, check out this man on the street interview from the very same article.
"It's the best donut you can get in Taiwan, but it's not as good as Dunkin Donuts," Fu told the Taipei Times. "If someone bought some for me, I'd eat it," he said, but indicated that he would not buy the doughnut again for himself.