Who can forget the classic song "Punk Rock Girl" from 90s novelty band the Dead Milkmen? I remember buying their tape for 99 cents at an Ames.
I tapped her on the shoulder
And said do you have a beau?
She looked at me and smiled
And said she did not know
Punk rock girl give me a chance
Punk rock girl let's go slamdance
We'll dress like Minnie Pearl
Just you and me punk rock girl
OK, apparently my memory/hearing is not that good since I always thought it said "looks just like Minnie Pearl." But, I wondered after listening to the song, what in the hell does Minnie Pearl actually look like? Here is the awful truth: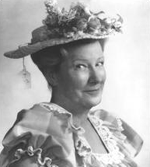 I guess the Milkmen used the word "punk" in the broadest possible sense of the term.